So we here in Texas have been having some beautiful spring weather! I had made it up early there want much I needed to do today that could be done with David up so I figured a nice walk to the park would be good.
Our walk was great David jabbered at the birds said dog when the dogs barked and all. He was loving the park and doing great.
So now let me explain a little bit about the type of kid David is before I go on. David is very active, he walked at 7 months, he climbs anything and everything! He can even scale the kitchen cabinets with his toes! This is why what follows wouldn't of worried me in the beginning.
Ok back to the story all was going well he was having a blast, and was loving slides something he normally has avoided at the park. he climbed up the steps to the big slide, slid on down to mom and ran back to do it again only he changed his mind, I began running over and telling him no no, go down the slide but he wast going to! he decided he was gonna climb down but not the steps...
Now the picture below is one I fond on google so its not identical ...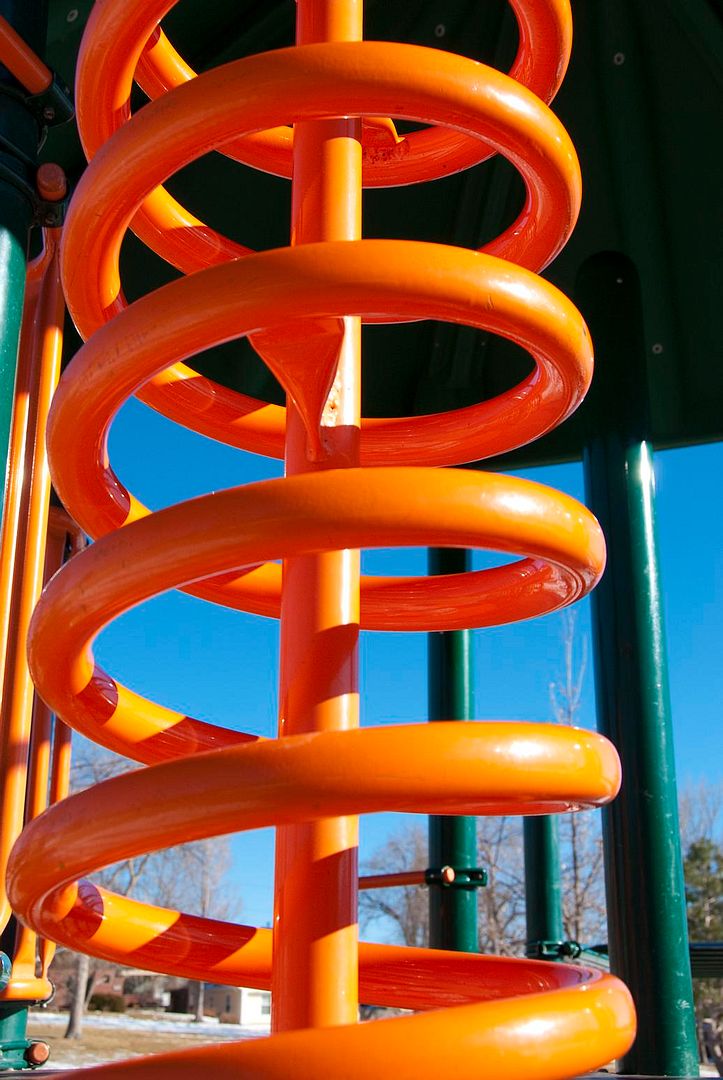 Our park has this large climbing thing in the middle of the structure to climb up and down inside of, its bigger around than this with the rungs evenly spaced.

Well you guessed it David was gonna try it out, he made it half way down with me now running around toward it, and then lost his footing, he fell about 4 feet and hit the back of his head on the 2nd to last ring.

He whimpered and cried but didn't scream as he normally would if he had gotten hurt, all he wanted was to hug on me. I knew this want normal for my kid... so I quickly ran home with David ( I don't normally run). I grabbed the diaper bag and my purse and we headed for the ER (making calls as I ran home and once in the car).

Within an hour David was seeing a Doctor at the local children's Hospital.
And yes I had to be the mean mommy who took his picture when he couldn't move. David was examined, had a CT, even found their stash of binkies lol.
He has a headache as one would expect , an abrasion where he hit his head and a nice goose egg, but that is it!
we are home now and he is acting like himself again, I hear Dad out there telling him no and get down as I type this.
Now this goes to show how suddenly things can change, I keep our diaper bag with a medical card, and other important documents as well as my purse (currently a tote bag) ready to go. Because when you have an active child you can never be too prepared for the unexpected, things change fast with kids!
For more information on keeping a Go Bag or even a Diaper Bag for emergencies ready to go, check out Child Life Mommy and her post on Go Bag right
here
!